July admission is only $5
Dallas, Texas – Summer at the Arboretum offers a new exhibition with the talented Don Tortellini, documentarian and photographer. The exhibition opened on June 19 with a reception with the artist and will continue until July 24. Tortellini had his family present and dedicated the exhibit to his father, a fitting tribute being Father's Day as well as June 19. Called Faces of Dallas and the Village, the exhibit is on display in the DeGolyer House and admission is included with paid garden admission. In July, admission is only $5 per person for ages two and up. Tickets can be pre-purchased online.
Klyer Wallace looks at Don Tortellini. photo credit: Kasey Kamenicky
Tortellini combines immersive photography with raw storytelling to create an artistic experience through his alluring photographs. Two works are on display: Faces of Dallas, where he humanizes and contextualizes the experience of homelessness in Dallas through photography; and The Village, a photo series preserving the people, culture and history of an underserved and often underrepresented community. Both works are in the process of being acquired and the proceeds go directly to the philanthropic causes of his choice.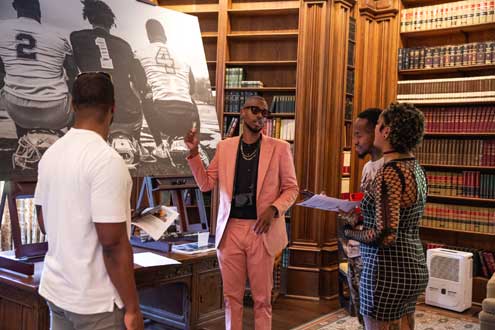 (LR) Damon Reynolds, Don Tortellini, Akeem Garret and Dennitra Lomax – photo credit: Kasey Kamenicky
Summer at the Arboretum, which runs through August 14, also includes music, food, custom murals by local artists Alli Koch, MOM, Will Heron and Favio Moreno, who have created works inspired by Birds in Paradise. A highlight, carried over from Dallas Blooms, features a massive pair of 13-foot-tall floral peacocks with richly planted tails measuring over 36 feet in diameter. According US News and World Reportthe Dallas Arboretum is one of the "21 Best Things to Do in Texas."
Tickets….
Advance timed tickets are required for admission to the Arboretum by calling 214-515-6615 or visiting the website at https://www.dallasarboretum.org/ Visit dallasarboretum.org or social media sites for the latest information.
About the Dallas Arboretum and Botanical Garden
The Dallas Arboretum and Botanical Garden is located on the southeast shore of White Rock Lake at 8525 Garland Road, Dallas, Texas 75218. The garden is also home to the nationally renowned Rory Meyers Children's Adventure Garden. It is open daily from 9 a.m. to 5 p.m. Daytime admission is $16 for adults, $14 for seniors 65 and older, $10 for children 2-12, and free for Arboretum members and children under two year. Parking is $11 purchased online. The Dallas Morning News is the Dallas Arboretum's premier partner. The Arboretum is supported, in part, by funds from the Dallas Park and Recreation Department. WFAA, Channel 8 is an official media sponsor of the Dallas Arboretum. Timed tickets are required and can be purchased online at www.dallasarboretum.org or by calling 214-515-6615.